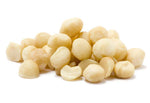 Macadamia nuts are usually combined with tropical flavors, like pineapple and coconut. But, these tasty nuts are much more versatile! Macadamia nuts are packed with lots of essential nutrients, making them a great ingredient to add to all kinds of different dishes. Their nutty taste complements all sorts of other flavors, which may just make them one of your new favorite cooking ingredients.
Here are three delicious recipes that use macadamia nuts.
1. White Chocolate & Macadamia Nut Cookies
White chocolate and macadamia nut cookies are up there for many when they think of their favorite types of cookies. The white chocolate gives a more subtle taste compared to milk chocolate and dark chocolate, letting the macadamia nuts shine!
The chewy quality of these cookies complements the crunchiness of the macadamia nuts, too. Every time you mix up these cookies, you'll know they'll come out perfectly every time! Even though white chocolate macadamia nut cookies may seem like a hard cookie to bake, they really aren't!
Check out this recipe for Soft and Chewy White Chocolate Macadamia Nut Cookies from Live Well Bake Often for a recipe that truly sticks to all of the great elements of this classic cookie.
2. Mahi-Mahi With a Macadamia Nut Crust
Macadamia Nuts add fantastic flavor to dishes besides desserts! If you want to find new ways to use macadamia nuts in dishes other than your baked goods, try out this mahi-mahi recipe.
The flavors of the mahi-mahi work very well with the macadamia nuts. The nuts don't just contribute to the flavor — they add a great texture to the dish, as well! Enjoy the fish with a tasty side of fresh salad or savory jasmine rice for a full and balanced meal.
Food Faith Fitness has an excellent recipe for an easy Oven Baked Mahi Mahi with Macadamia Crust.
3. Asian-Inspired Toasted Macadamia Nuts
Have you thought about eating macadamia nuts as a snack? Since the nuts are full of important nutrients, protein and fiber, they're the perfect healthy snack! While they taste great after they're toasted on their own, toast them up with some other flavors to give them a truly unique, delicious taste.
Give this recipe from the Food Network for Asian Sesame Macadamias a try, and you'll be hooked! They're super easy to make, and you can eat them as a snack at home or on the go. Whether you need something easy to pack for lunch at school or work, something to munch on during a long car ride or are just looking to keep healthier snacks at home, this recipe is a great pick.
You won't just think of macadamia nuts as being sweet after you give these a try. The spices, ginger and soy sauce give the macadamia nuts a unique flavor with a bit of a kick.
We hope this post showed that you don't have just to eat macadamia nuts for dessert. To make our favorite macadamia nut recipes, be sure to buy macadamia nuts from Sincerely Nuts today!