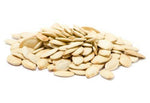 Imagine a treat that doesn't just taste good, but also gives you loads of nutritional value in every mouthful. The versatile, delectable pumpkin seed is just such a snack. Packed with protein as well as healthy fats, pumpkin seeds will keep you full for hours and help your body get stronger and leaner. If you want a snack with staying power, then you should try incorporating these seeds into your diet. Here are a few recipes with pumpkin seeds you can whip up today.
Pumpkin Seed Granola Bars
Our favorite pumpkin seed granola bar recipe uses only six ingredients. These provide the perfect post-lunch pick-me-up at work or an excellent after-school snack when the kids get off the bus. Stir together these ingredients:
1 cup rolled oats, pulsed in a food processor
1/2 cup pumpkin seeds
1/3 cup honey, zapped in the microwave for 20-30 seconds
1 1/2 teaspoons cinnamon
1 tablespoon coconut oil, melted
1/2 cup carob chips
You can vary the mix-ins, too. If you don't like carob chips, for example, sub in white cookie chips. After you mix all the ingredients, press them into an 8-by-8 pan and cook in the oven at 350 degrees Fahrenheit for about 15 minutes. Let cool for an hour, then cut into six bars.
Pumpkin Seed Butter
You have heard of peanut butter. You have heard of almond butter. You may have even heard of sunflower seed butter. Have you ever heard of pumpkin seed butter? This delicious treat makes a fun topping for a range of foods, from celery to toast. With benefits for your heart and skin, pumpkin seeds make an exceptional spread.
You can make pumpkin seed butter in just a few minutes. Start with a cup of roasted, salted pumpkin seeds. Add them to a food processor along with half a teaspoon of olive oil. Blend until smooth. You may need to add a bit more olive oil to get the seeds to mix. Store in a secure container for up to a week.
Spicy Mole Sauce
Do you love mole sauce? This traditional Mexican accompaniment to nearly any cuisine has exceptional flavor. You can make an authentic mole using pumpkin seeds. Combine these ingredients:
Jalapenos
Chicken broth
Herbs to taste
Tomatillos
Simmer for about five minutes, then pour into a blender glass. Let it sit with the top off for a few minutes to let the steam escape. Then pop on the top and blend the spicy mixture together. Pour into a bowl, then gently stir in pumpkin seeds. You can use this sauce for a variety of purposes, from smothering chicken to pouring over enchiladas. No matter how you decide to employ it, you will love the hearty crunch provided by the seeds, in contrast to the spice of the tomatoey broth.
Enjoy Our Pumpkin Seeds in Your Recipes
Pumpkin seeds make an exceptional snack, but don't limit yourself to eating them that way. Try our recipes that use pumpkin seeds to find your own favorites. Buy your seeds in bulk today through Sincerely Nuts.