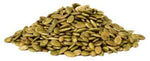 You have probably heard people talk about pepitas — how tasty they are, how good for you they are and how versatile they are. You can't help but wonder, what in the world are these pepitas, anyway? Are they pumpkin seeds, or are they something else entirely?
We're glad you asked. Many people share those same questions, so we've prepared this handy guide to answer all your pepitas queries. Read on to learn about these nutritional powerhouses.
What Are Pepitas?
Pepitas are a type of pumpkin seed — in fact, they are pumpkin seeds with the hulls removed. The seeds you scoop out of your jack-o-lantern each October are pumpkin seeds, and inside of those are the pepitas.
You can find pepitas free of their outer shell in a few select types of pumpkins, though these are not the ones you carve at Halloween. Oilseed pumpkins, for example, have only pepitas and not full pumpkin seeds inside.
The name "pepita" is Spanish for "tiny squash seed." You may also hear pepitas referred to as "naked seeds." Whatever you call them, you will get a substantial dose of nutrients when you pop a few in your mouth.
Are Pepitas Good for You?
Pepitas provide an excellent source of antioxidants. Rich in protein, they also contain a variety of nutrients, including:
Copper: Maintains strong bones
Zinc: Supports your immune system
Magnesium: Boosts heart health
Pepitas have omega 3s, which can help boost the cardiovascular system. When you eat pepitas, you will repair muscle more quickly and feel stronger thanks to the healthy dose of minerals.
What Are Pepitas Good For?
The better question may be what aren't these little seeds good for? Their nutty yet subtle flavor makes them an ideal addition to nearly any dish. Many people sprinkle pepitas on just about any meal, from oatmeal in the morning to stir-fries at night. You can add them to salads, too, substituting them for croutons to get the same crunch with fewer calories and more fiber. Or, toss them into muffin batter for a chewy surprise.
Snacking on roasted pepitas may be the most popular way to consume this superfood. You can purchase your pepitas roasted and salted for an easy right-out-of-the-bag snack, or buy raw pepitas and bake them yourself. Spray them with olive oil and sprinkle with your favorite spices, such as garlic powder, curry powder or rosemary. Roast them until they're fragrant and crisp, and don't be surprised when people ask for second helpings. These naked seeds will be the hit of any party!
Where to Buy Pepitas?
Now that you know what pepitas are, how they can benefit your health and how you can use them at every meal, you may be ready to make your purchase. You can buy delicious pepita seeds from Sincerely Nuts. We offer bulk options, too, so you can save money as you stock your pantry. Remember, when you place an order of more than $60, you receive free shipping. Purchase your pepitas today, and feel free to contact us with any questions you have.