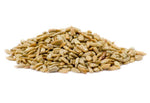 Everyone knows how important it is to maintain a healthy diet during pregnancy. From making sure you're getting all the protein, vitamins, minerals and more you need to avoiding anything that could harm the baby, what you eat is a key part of a healthy and happy pregnancy.
Whether you're new to the nutritious world of seeds or you're a seasoned veteran looking for a few different options, here are four healthy seeds to eat during pregnancy.
1. Chia Seeds
Chia seeds are a great source of omega-3 fatty acids. For a growing fetus, this nutrient aids in healthy brain development.
Chia seeds are a versatile food, so they are easy to use in a number of different dishes. You can eat them on their own, or you might try sprinkling some on top of a yogurt parfait for a little extra crunch and nutrition. If you're craving something on the sweeter side, try soaking them in milk and adding just a bit of chocolate for a delicious and healthy pudding.
2. Pumpkin Seeds
When you're experiencing morning sickness, you may be ready to try anything to make that unpleasant feeling go away. Eat a handful of pumpkin seeds, and you have a delicious and easy way to feel less nauseous.
Like chia seeds, there are a variety of ways to enjoy pumpkin seeds, too. They are fantastic when they're roasted, but you can also add them to other foods and snacks like homemade trail mix and breads.
3. Sunflower Seeds
Eating sunflower seeds, especially during the third trimester, is one of the best types of seeds to eat during pregnancy. With even just a handful, you'll get an amazing serving of iron.
Besides easing morning sickness, nausea and vomiting, sunflower seeds also contain manganese, magnesium, copper, vitamin K and more. These nutrients and the others contained in sunflower seeds are helpful in maintaining the health of both your baby and you. Try eating them on their own or sprinkle them on top of yogurt, oatmeal or toast. You might also incorporate them into baked items like cookies and muffins.
4. Watermelon Seeds
Who knew that those seeds you use for summer spitting contests are actually nutritional powerhouses? Munching on watermelon seeds gives you a great source of vitamin B, protein and magnesium. Watermelon seeds also contain vitamin C, which is an important nutrient for keeping both mother's and baby's immune systems strong.
Watermelon seeds can also be helpful to a mother's mental health. When you add them to your diet, they can help reduce stress and symptoms of depression. Your pregnancy is a time that you should enjoy to the fullest — and watermelon seeds can make it much more pleasant.
Shop Online Today and Get Your Favorites
At Sincerely Nuts, we carry all of these seeds and many more healthy snacks. Check out our inventory today to stock up on all of the seeds, nuts and other superfoods you need to help your baby develop properly and keep you feeling your best!