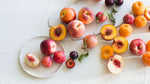 One of the best parts of summertime is seeing that bright, colorful seasonal fruit neatly stacked in the supermarket produce aisle. From peaches and plums to mangos, these delectable summer stone fruits not only taste great, but offer a wide range of health benefits. Stone fruits are rich in anti-inflammatory nutrients and can improve your back, bone, heart and digestive health.
But why are these fruits known as "stone fruits?" Stone fruits are characterized by the large pit, or stone, in the middle of the fruit. If you break open this hard stone, you'll find the fruit's seed. Most stone fruits reach peak ripeness during the summer months — which is why so many of associate them with the season!
With their refreshing flavor and host of health benefits, you'll want to use stone fruits in all of your favorite summer desserts and recipes.
Different Types of Stone Fruit
Stone fruits are an incredibly diverse group of fruits with a variety of shapes, colors and flavors. While peaches, plums and apricots are some of the most popular types of stone fruit, you may be surprised by other stone fruits, including:
Lychee
Raspberries
Blackberries
Any of these stone fruits are delicious and refreshing on a warm afternoon. But you can also get creative with these fruits by grilling them, roasting them or even dicing them to add to salsas for a distinct and unexpected flavor.
Health Benefits of Eating Stone Fruit
If you're looking for more reasons to eat stone fruit, you'll be happy to learn they offer several great health benefits, including:
Boosting immune system health: Stone fruits feature elevated levels of vitamin C, which can promote a healthy heart and a more resilient immune system.
Keeping muscles and nerves healthy: Many stone fruits are high in potassium, which helps regulate blood pressure while keeping your nerves and muscles healthy.
Improving digestive health: Stone fruits are rich in fiber. Fiber is known to help lower blood cholesterol levels, maintain healthy weight and manage obesity.
Protecting visual health: If you feel your eyesight waning, eat a stone fruit like a peach or nectarine. Stone fruits are high in carotenoids, a type of antioxidant believed to improve eyesight.
Encouraging bone growth: Abundant with vitamin K, stone fruits can encourage healthier and stronger bones and teeth. Vitamin K is helpful in preventing osteoporosis and other bone diseases.
Explore Sincerely Nuts's Selection of Dried Stone Fruits
When you order quality dried stone fruit from Sincerely Nuts, you don't have to worry about stocking up during the summer months. You can enjoy delectable peaches, apricots, plums, cherries, mangos and more all year round.
We pick every fruit at its sweetest and ripest, then preserve and dry it later to trap that delicious flavor for you to enjoy at your leisure. Explore our wide selection of dried stone fruit today! Enjoy free shipping on all orders of $60 or more.