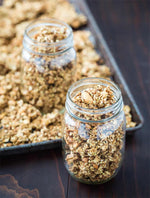 MAKES 14 CUPS

PREP TIME: 10 minutes
ACTIVE TIME: 20 minutes
INACTIVE TIME: 40 minutes
INGREDIENTS
10 Medjool dates, pitted
½ cup nondairy milk (soy-free if necessary)
2 tablespoons maple syrup
2 tablespoons melted coconut oil
2 teaspoons vanilla extract
½ teaspoon salt
2½ cups rolled oats (certified gluten-free if necessary)
2½ cups puffed rice (or puffed millet)
1 cup buckwheat groats (kasha)
1½ cups chopped cashews (raw or toasted)
½ cup hemp seeds
2 tablespoons flax meal
2 teaspoons ground cinnamon
3 tablespoons coconut sugar (or brown sugar)
INSTRUCTIONS
1. Position two racks in the oven near the center. Preheat the oven to 275°F. Line two baking sheets with parchment paper or silicone baking mats.
2. Combine the dates, milk, maple syrup, coconut oil, vanilla, and salt in a food processor or high-speed blender and process until smooth, pausing to scrape the sides as necessary. Set aside.
3. In a large bowl, stir together the oats, puffed rice, buckwheat groats, cashews, hemp seeds, flax meal, and cinnamon. Add the date mixture and stir until combined. Sprinkle the sugar over the granola and gently stir it in.
4. Spread out the granola over the two baking sheets and bake for 20 minutes. Switch the sheets, placing the bottom sheet on the upper rack and the top sheet on the lower rack, and bake for another 20 minutes, until crisp and golden. Let cool completely before crumbling and transferring to gift jars or an airtight container. The granola will keep at room temperature for about 2 weeks.
Find this incredible ingredients and more at