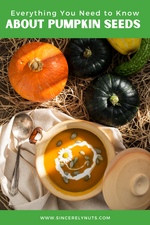 For a tiny seed, pumpkin seeds or pepitas, are abundant in nutrients, vitamins, and minerals, making them the perfect snack, add-in ingredient, and immune boosting seed.
Pumpkin seeds are ingenious to North, South, and Central America. The word Pepita originates from Mexico, where these seeds come from. "Pepita de calabaza" translates to "little seed of squash."
Pumpkin seeds are a nutrient powerhouse because they contain a ton of essential vitamins and minerals that can help to improve many different parts of the body.

These seeds are especially helpful at maintaining healthy thyroid levels. They are particularly high in zinc, which is essential to enhance the immune system and maintain healthy thyroid hormone levels. Deficiencies in zinc can lead to common thyroid conditions like hypothyroidism.
Zinc can even help to combat red skin, acne, and much more. Check out the many more health benefits of pumpkin seeds below.
HEALTHY BENEFITS OF PUMPKIN SEEDS:                   
Rich in Antioxidants (Necessary to rid the body of harmful free radicals)
High in Magnesium (Can help to improve headaches, muscle cramps, sleep, and more)
Abundant in Fiber (Adding more fiber to your meals helps improve many bodily functions)
Can improve blood sugar levels (The nutrient-dense seeds can even regulate blood sugar)
May Improve Prostate and Bladder Health
High in Protein (These seeds are a plant-based dream)
Rich in Tryptophan (An essential amino acid that helps to improve sleep, regulate hormones, and more)
Omega 3 Superstar (Pumpkin seeds provide a ton of omega 3 fatty acids, which are essential to lower inflammation in the body, boost brain power, and more)
Can Help with Weight Loss (Adding more nutrient-rich foods makes weight loss simple)
High in Potassium and Vitamin A (These nutrients are necessary for a healthy body)
You may think you need a whole lot of seeds to get your fair share of these health benefits, but they pack a punch in just one serving. One 100 gram serving of pumpkin seeds provides over 200 percent of the daily recommended intake of vitamin E, for example.

Although pumpkin seeds are not a complete protein for our vegan friends, they contain many essential minerals as well as the amino acid tryptophan to make nutrient absorption easier. That is because they contain high amounts of iron, magnesium, zinc, and more.

Another benefit to adding these nutrient-powerhouse seeds is they will help to keep you full and satisfied longer.

There is no need to go crazy with these seeds. A little bit goes a long way each day. Be sure to grab your favorite type of pumpkin seeds so you can have them for every occasion.
The health benefits of pumpkin seeds are far and wide, and they are one of the easiest foods to add to many different meals, snacks, and recipes. Find out how to add more pumpkin seeds to your diet today.

HOW TO EAT MORE PUMPKIN SEEDS:
Wondering how to consume more of this nutrient-dense seed? We have you covered. We're sure one of these ways will help you reap all the health benefits of pumpkin seeds soon.
Add some roasted and unsalted seeds to your salads, smoothies, or baked goods (Find out how to roast pumpkin seeds here)
Snack on a handful of pumpkin seeds per day to reap the benefits
Blend pumpkin seeds or add them on top of a pumpkin soup for an extra boost
Toast pumpkin seeds in the oven for a fall treat
Mix pumpkin seeds into your favorite trail mix or grab some here
Don't throw the seeds of your Halloween pumpkin out; Toast or roast them instead
Replace your refined white flour with our Pumpkin Seed flour for a healthy change
Grab some roasted and salted snow white pumpkin seeds for a healthy and satisfying treat
Throw them into a yogurt, oatmeal, or even your favorite cereal for breakfast
Soak or sprout seeds for a change of pace
Use as a crust for your favorite meat or fish recipe
Try a pumpkin seed brittle
Add some to cookies or make a pumpkin seed butter
Make your own homemade granola with pumpkin seeds
Enjoy a pesto pumpkin seed for a change and nutrition change
Add a crunch to your favorite tacos
Make a pumpkin seed or dressing
Throwing some extra pumpkin seeds into your daily routine can benefit your health in many ways. Add them to breakfast, lunch, dinner, or your favorite treats for a healthy kick of energy and stamina.
INTERESTING FACTS OF PUMPKINS:
Think you know everything there is to know about pumpkins and their seeds. Check out this list to find out some new fun and interested factoids.
Pumpkins are grown on every continent but Antarctica
Billions of pumpkins are produced throughout the U.S. annually
One pumpkin contains about 500 seeds
Pumpkins are technically fruit
Pumpkin flowers are edible
Pumpkins are 90 percent water
Pumpkins are not only orange, they can be yellow, red, green, or white
The word pumpkin originates from the Greek word 'pepon' which means large melon
Pumpkins are technically in the fruit category because of their anatomy. Fruits do not all have to be super sweet, after all.
Adding more nutrient-dense seeds to your diet can help to improve your health in many ways. From preventing disease to boosting your energy and endurance, pumpkin seeds are an excellent choice for the whole family.
Pumpkins are now in season, and there's no better time to enjoy the nutrients that these seeds offer. At Sincerely Nuts, we have everything you need to fill your pumpkin needs. Grab yourself some fresh pumpkin seeds, shelled or unshelled, snow white, roasted, or salted.
You can even grab one of our famous trail mix bags loaded with cranberries, mango, walnuts, almonds, and much more for extra nutrition and flavor.
Pumpkin seeds are a great addition for everyone in the family. Even if a family member does not like the taste, they are easy to add to so many recipes for a disguised flavor.
Are you ready to start adding pumpkin seeds to your diet? You simply can't go wrong.