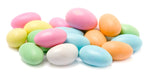 Wedding songs and dances may come and go, designer dresses may slip in and out of fashion, and grooms may forever debate on the advisability of a top hat and a cane on this dapperest of days. One thing never changes about weddings, though — the Jordan almonds given as favors at nuptials not just in the United States, but also around the world.
Jordan almonds, if you are not familiar with them, are almonds coated in pastel-colored candy. For weddings, people often wrap them in fabric or netting, tied with a small bow, and set them by the plates at the reception or hand them out when people leave.
You may occasionally see Jordan almonds — a delicious sweet-and-savory treat — in other venues, such as candy bowls at an office or as decorations. They are by far best known for their small but notable presence at weddings, however. What's the story behind using Jordan almonds for wedding favors, and how long has this tradition been going on?
A Look at Jordan Almonds' History
Also referred to as Italian confetti, Jordan Almonds' roots stretch all the way back to ancient Rome. Romans used honey-covered almonds to celebrate weddings, though it wasn't until centuries later that sweet nuts became a staple at banquets and other fancy meals across Europe.
The Abruzzo region in Italy began producing confetti in the late 1700s. A few local traditions arose surrounding the candies, which people distributed at big life events such as baptisms, anniversaries and, yes, weddings. They gave them out according to color — pink or blue for baptisms, silver or gold for anniversaries, and ivory or white for weddings.
For weddings, these almonds were served to guests in multiples of five, signifying the five good wishes of weddinggoers:
Happiness
Longevity
Fertility
Prosperity
Health
Jordan Almonds at Weddings in the United States
The tradition of giving Jordan almonds to guests at weddings spread around the world in the 20th century. In different countries, the nuts have different meanings. In Greece, for example, they are served in odd numbers, to mirror how marriage makes a couple indivisible.
In the U.S., the almonds symbolize the hope that a union will be more sweet than bitter, playing off the sugar coating of the nut. They play tribute to the idea of "for better or for worse," mixing bitter and sweet times.
Many couples choose to order almonds that match the colors of their wedding. While they may not know the origins of the tradition, they know people have come to expect these favors at their seats, and many people see them as a classic good luck charm.
If you need to order Jordan almonds for your wedding,  check out our selection at Sincerely Nuts. We have assorted varieties and solid colors to match your needs for your reception, including:
Share this post on Facebook to let your friends know the fascinating history of these wedding-day staples.