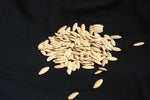 Pepitas, or hulled pumpkin seeds, have become one of the cool superfoods in recent years, and it's little wonder why. They pack a lot of nutrition, helping to protect against everything from cardiovascular disease to prostate cancer, thanks to the antioxidants in every tiny seed.
Many people want to get more pepitas in their lives. They make an excellent snack, and there are so many ways to add extra zip to your pepitas, whether you roast them or even add them to a meal. Here are four of our favorite recipes with pepitas.
1. Roasted Pepitas in Many Flavors
Roasted pepitas are, of course, a classic way of consuming everyone's favorite October treat. We recommend trying a wide variety of toppings for your pepitas to figure out what you like best. Are you a fan of sweet and salty? Do you prefer pepitas so hot they should come with a warning label? Or, do you crave a more understated seed? Whatever you like, we have you covered.
First, cover a cookie sheet with parchment paper. Next, arrange your pepitas across the parchment. Spray lightly with olive oil, just enough to get them wet enough to hold the toppings. Then add spices of your choice. Some of our favorite combinations include:
Salt and maple syrup
Chili powder or hot sauce
Rosemary and garlic powder
Soy sauce, ginger andsugar
Curry, coriander and a squeeze of fresh lime
Pumpkin pie spice and brown sugar
2. Pepita Cookies
Pepitas add a chewiness and nutty flavor to any recipe. Instead of adding pecans or almonds to your favorite cookie recipe, substitute pepitas. You can make chocolate chip, oatmeal or even sugar cookies with this secret ingredient. Best of all, while you will be eating dessert, you will still be absorbing the pepitas' many nutrients, balancing out the sugar and calories.
3. Pepita Salad
Pepitas make an excellent accompaniment to any salad. Want one to really knock your socks off? Assemble butter lettuce, fresh sliced peaches, sliced English cucumbers and a mild ginger dressing. Then, sprinkle pepitas on top.
4. Pepita Overnight Oats
People can't get enough of this leisurely breakfast, and you can add pepitas to your favorite recipe for added fiber. We like this prep method. Add a half-cup of oats, a quarter cup of Greek yogurt, a half cup of almond milk, a handful of your favorite berries, a dash of cinnamon and a quarter cup of pepitas to a small container. Then, add a lid.
Shake up all the ingredients, then place them in the refrigerator overnight. The result the next morning will be a thick and creamy oat dish with a nice crunch from the pepitas.
Use Sincerely Nuts Pepitas in Your Recipes
Now that you have a list of must-try recipes, it's time to stock up your pantry for some serious cooking. You can buy pepitas in bulk from Sincerely Nuts and save on shipping. We offer free shipping on orders of more than $60. Choose from raw pepitasorroasted, salted pepitas, depending on the kind of recipes you plan to make. Place your order today, and feel free to contact us with any questions.