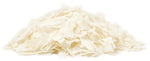 Coconut is an often-overlooked ingredient that can make the tastiest treats and healthiest snacks when incorporated into the right recipes. Not only is it sweet, natural and flavorful, but this nifty tree nut is packed with all kinds of nutrients — including minerals, vitamins, and fiber that posses anti-fungal and antibacterial properties to keep your body running at top quality and fighting off infections.
Adding healthy coconut snacks into your diet is a great way to experience both the delicious taste and health benefits of coconut, but you might not know where to start when it comes to coconut snack recipes. We're here to help! Here are three healthy, simple coconut snack recipes to try for yourself.
1. Coconut Balls
Craving a delicate, fluffy treat that's still healthy? These light, delicious coconut balls will melt in your mouth. Here's what you need:
After melting the coconut butter in the microwave, place syrup, coconut butter and shredded coconut in a bowl and mix with a spoon. Put the mixture in the freezer for three to five minutes to make it firmer, then remove the bowl and shape the mixture into eight small balls, wetting your hands slightly to help you work. If desired, place one almond in the center of each ball.
Roll your finished balls in more shredded coconut to coat them and enjoy this fluffy treat. Store in the fridge.
2. No-Bake Snack Bars
If you want a nutritious but still delicious alternative to a batch of brownies, this healthy coconut snack recipe has you covered. Packed with sweetness and healthy ingredients, these snack bars are sure to satisfy. Here's how to whip up your own:
Throw dates, cashews, coconut, cocoa powder, nut butter and salt into a food processor. Blend until the mixture becomes relatively smooth and clumps into a ball with some chunks of nut remaining. Empty the mixture into a square baking dish lined with parchment paper and, using your hands, smooth out the mixture in an even layer across the bottom of the dish so it fills the square. Cover with cling wrap and refrigerate for about half an hour.
Remove from baking dish, cut into squares and enjoy cold or frozen. Yum!
3. Coconut Clusters
Looking for a snack with all-natural ingredients, a healthy crunch and a touch of sweetness? These coconut cluster morsels are easy to make and entirely satisfying. Here's what you'll need:
Preheat your oven to 350°F, then place pumpkin seeds, chia seeds, coconut flakes and honey or maple syrup in a mixing bowl. Combine well until sticky, then spoon small portions of the cluster mixture onto a baking sheet. Bake for 10 to 12 minutes, or until the coconut flakes begin to turn golden brown.
Remove from the oven to cool, then lift each cluster from the baking sheet to enjoy this healthy coconut snack!
Find Your Ingredients At Sincerely Nuts
Looking for all-natural, high-quality shredded coconut and other ingredients to use in your healthy coconut snack recipes? Sincerely Nuts has only the best, available to ship straight to your door. Order online today.