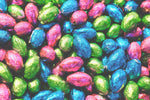 The Easter bunny will be hopping into town pretty soon, which means one thing — time to decide on what kind of chocolate candy gets delivered this year. If you are like most people, you have a few favorites you buy year after year. But perhaps it's time to try something new. Here's our take on the very best chocolate Easter candy, ranked in no particular order, because each one is just as delicious as the next.
1. Milk Chocolate Almonds
Is there anything more decadent than combining the sweetness of milk chocolate with the smokiness of an almond? Toss our Milk Chocolate Almonds into anyone's Easter basket, and they will smile for days.
2. Hershey Peanut Butter Cups
The classic combination of chocolate and peanut butter pleases the taste buds from the moment you take a bite of this classic treat. The smallest size of Hershey Peanut Butter Cups offers the perfect Easter treat. They fit in Easter baskets and make a great decoration for your Easter dinner table, too.
3. Chocolate Raisins
Raisins on their own can be a sweet treat. They pair exquisitely well with milk chocolate, which brings raisins to an entirely new flavor level. Chocolate Raisins are the perfect snack for the adults at your Easter celebration, who may prefer something a little more sophisticated than jellybeans.
4. Chocolate Lentils
Need some color in your Easter basket? Our Chocolate Lentils add a dash of springtime pastels to your collection of candy. These dark chocolate confections come in a range of pleasing colors, and they will stand out among the brown chocolate candies you pepper the rest of the basket with.
5. Milk Chocolate Malt Balls
Nothing says Easter like malted milk. Our Milk Chocolate Malt Balls have a rich filling you will crave for days after you sample the first one.
6. Cherry Cordials
Offset the tart taste of cherries with the slightly bitter flavor of dark chocolate, and you get our Cherry Cordials. These are often a favorite among adults, who may remember them from their own childhoods. You only need to pop a couple in your mouth to satiate your sweet tooth.
7. Viennese Crunch
Everyone loves candy bars, and our Viennese Crunch is unique. It blends chocolate, nuts and caramel for an out-of-this-world combination.
8. Pistachios-Dark Chocolate
Do you prefer dark chocolate Easter candy? Then Our Pistachios-Dark Chocolate will become one of your favorites in a hurry.
9. Hershey's Chocolate Kisses
No Easter basket is complete unless it has Hershey's Chocolate Kisses inside. This may be the simplest treat you can buy. It's nothing but highly concentrated milk chocolate, but boy, does it taste incredible. Plus, Kisses are the perfect size to hide in plastic eggs for egg hunts, too.
10. Rainbow Nonpareils
Finish out the chocolate Easter candies in your basket with a serving of Rainbow Nonpareils. The bright colors of the sprinkles on top make the candy the perfect harbinger of spring.
Now that you know the top chocolate Easter candies, it's time to stock up. You can buy in bulk from Sincerely Nuts. Remember, you get free shipping on orders of more than $60.