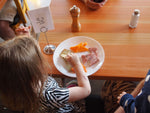 When it comes to snacks, kids can be picky, and getting your children the nutrition they need can be difficult — especially when you're looking for gluten-free options. But don't worry — lack of gluten doesn't have to be a limitation, especially when it comes to healthy snacks little ones will love.
Check Out These Gluten-Free Snacks for Kids to Buy From Sincerely Nuts
Whether your children have dietary restrictions or you're choosing to go the gluten-free route for healthy-eating reasons, you're sure to have success with these 12 gluten-free snacks for kids:
1. Dried Peaches: Give your kids a healthy dose of flavorful fruit by adding a baggie of dried California peaches to their backpacks. This snack is a great way to sneak in some gluten-free vitamins and minerals, and your kids will crave them like candy.
2. Carrot Chips: Want to balance their diets with a dose of heart-healthy vegetables? With these carrot chips, your kids can snack on something fun and crunchy without fussing. Sweet and salty, they're fresher and more flavorful than potato chips.
3. Honey-Roasted Cashews: Pack a little protein into your young ones with this nutty snack. Buttery, healthy and honey-coated, these cashews are crammed with antioxidants for hidden health benefits.
4. Alphabet Gummies: Letting your little ones have a gluten-free treat for school? These alphabet gummies aren't cheating too much. Your kids will love the fresh, flavorful candies in assorted flavors and colors — and they can practice their ABCs while they snack.
5. Glazed Apricots: Are the kids craving something sugary? Keep their hands away from the cookie jar and satisfy them with fruit instead. These glazed apricots are delicious, nourishing and nutrient-filled.
6. Roasted Chickpeas: Need a crunchy, salty, savory snack to replace popcorn and pretzels? Your kids will love the unique flavor and texture of our roasted, salted chickpeas, and you'll love the vitamins, minerals and fiber they're filled with.
7. Diced Coconut: Looking for a dessert-like, gluten-free treat your kids will delight in? These dried, diced coconuts are a delicious super-food snack.
8. Date Nut Rolls: Give your children something scrumptious to crave with these delicious, plump dates sprinkled with coconut and packed with heart-healthy minerals and nutrients.
9. Dried Guava: If your kids enjoy tangy tartness in their treats, try adding dried guava to their diets as a go-to snack or tempting addition to a healthy meal.
10. Milk Chocolate Almonds: Give your kids a semi-healthy snack while treating them to the sweet taste of chocolate when you let them try smooth, gluten-free milk chocolate-covered almonds.
11. Organic Black Raisins: Grab a handful of this rich, chewy snack to keep your kids' cravings down between meals. All-natural and nutrient-filled, they're a welcome alternative to sugary treats.
12. Organic Dried Mango Slices: If your kids like adventurous flavors and fun snacks, feed them the chewy goodness of dried mango slices. Packed with antioxidants, they make a great go-to treat.
Snacks Served By Sincerely Nuts
When you buy our fresh, innovative snack creations at Sincerely Nuts, you'll never run out of options on your gluten-free snacks list for school. To find more healthy, gluten-free treats for your kids , check out our website and purchase online.