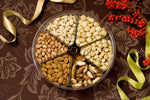 Whether they're roasted, salted, flavored or plain, nuts are delicious. With so many different types of nuts available to please any palette, why wouldn't you want to eat them every day? Even better, nuts have many awesome health benefits — they're high in fiber and rich in valuable nutrients like zinc and magnesium. They can even reduce your risk of heart disease! If you want to incorporate more healthy habits into your life, try adding more nuts to your diet.
Nut-lovers already know that nuts are great in a variety of recipes, from lunches to snacks to dessert. These seasonal recipes are a great place to start for using more nuts in your cooking and baking. While we've selected our favorite holiday recipes, these savory nut recipes taste great any time of the year. Try these seasonal recipes with nuts for any occasion!
Thanksgiving
Thanksgiving is a holiday that's all about the food. While we think you should eat delicious — and nutty! — food all year round, Thanksgiving is the perfect time to showcase your most mouthwatering recipes. Try adding nuts to your traditional Thanksgiving favorites for a healthy and yummy twist that's sure to impress.
Add some excitement to your Thanksgiving side dishes by including nuts:
But you don't have to stop there. Nuts can also take center stage as the main dish for your Thanksgiving meal. A protein-packed nut loaf is the perfect vegetarian alternative to turkey, so all your guests can be stuffed and satisfied.
Thanksgiving Nut Loaf
To start, preheat your oven to 350 degrees. In a large pan, saute 1 medium-sized chopped onion until it's fairly soft, then add 2 cups of finely chopped mushrooms and a sprinkle of salt and pepper. When the mushrooms are soft and juicy, add 2 cloves of minced garlic and the following dried spices:
1 tsp thyme
1 tsp basil
1 tsp sage
1 tsp tarragon
1 tsp marjoram
Continue cooking the mixture until the pan begins to dry, then add a splash of red wine. Stir the ingredients, and continue to cook until it's well-reduced. Remove it from heat, and allow the mixture to cool.
In a large bowl, mix 2 cups of cooked brown rice with 2 cups of chopped walnuts and 1 cup of chopped cashews or almonds — whichever you prefer. In another bowl, beat 5 eggs with 1 cup of cottage cheese. Add the egg mixture and cooled cooked mushrooms to your large mixing bowl with the nuts and rice.
Stir all the ingredients together, then mix in 1 and 1/2 cups of grated cheese and 1/2 cup of fresh chopped herbs. You can use any mixture of cheeses and herbs — cheddar, parmesan and smoked swiss with parsley, oregano and thyme is a good place to start.
Now, your Thanksgiving nut loaf is ready for baking! Pour the batter into a 9-inch loaf pan that's greased and lined with foil or parchment paper. Top the loaf with extra herbs or more chopped nuts. Place the pan on a baking sheet in case of overflow, and bake for one hour. Your nut loaf should feel firm when it's done. Remove it from the oven, and allow it to cool for 10 minutes before serving.
This vegetarian Thanksgiving recipe goes great with mashed potatoes or smothered in gravy. Even your non-vegetarian guests will love the smoky and cheesy flavor of this savory nut dish!
Christmas
For many people, baking and decorating Christmas cookies is a part of their holiday tradition. Next Christmas, try a Christmas cookie recipe with nuts to add a healthy kick to your holiday dessert. These two cookie recipes can still be topped with icing and decorated with sprinkles, or you can hide them from the kids to devour yourself.
Cinnamon Almond Cookies
Almond cookies are a rich treat that can be topped with chopped cinnamon almonds for a seasonal flavor. Begin by preheating the oven to 400 degrees. Combine 1/2 cup softened butter and 1/2 cup sugar in a large bowl, and beat until creamy. Add one egg, 1/2 cup almond flour and 2 teaspoons of amaretto liqueur. Stir until combined. Gradually add 1 and 1/4 cups of flour, and mix until smooth.
Using a teaspoon, drop the dough onto an ungreased cookie sheet about two inches apart. Press the cookies down slightly with your fingers. Sprinkle with chopped cinnamon almonds or blanched slivered almonds, or leave them plain to decorate later. Bake your almond cookies for five to eight minutes or until lightly colored.
Christmas Tree Pistachio Cookies
The natural green coloring of these pistachio cookies makes them perfect for cutting into shapes of Christmas trees or decorating with red candy for a festive treat the whole family will enjoy.
Preheat the oven to 350 degrees. Using a food processor, finely chop 1/2 cup of shelled unsalted pistachios. In an electric mixer, cream 1 stick or 1/2 cup unsalted butter with 3/4 cup sugar until fluffy. Beat in 1 egg and 1 teaspoon of vanilla extract. Add the pistachios, 1 cup of flour, 1 teaspoon of salt, and 1/2 teaspoon of baking soda. Mix for one or two minutes until evenly combined. To make this recipe even easier, you can substitute 3/8 cup of pistachio flour instead of chopping the whole pistachios yourself.
On a floured cutting board or another clean surface, roll the cookie dough out flat. Using a Christmas tree shaped cookie cutter, cut out the dough and transfer each cookie to a nonstick baking sheet. Bake your Christmas tree pistachio cookies for seven to nine minutes until the edges are golden brown.
Allow the cookies to cool before decorating them. If you want to make your pistachio cookies even more festive, try mixing red and green sprinkles into the dough or adding a few drops of green food coloring for more pop. Top your pistachio trees with chocolate chip ornaments or cinnamon candy Christmas balls for a fun seasonal dessert.
Easter
Easter means egg hunts, bunnies and, of course, candy galore. If you're looking for a healthier alternative to jelly beans and candy bars, try chocolate-covered nuts. Chocolate covered almonds, cashews and peanuts are perfectly salty and sweet treats for filling Easter baskets or stuffing plastic eggs. You can order your favorite nuts with milk or dark chocolate to please any sweet tooth!
If you're looking for a unique Easter candy recipe, try our nutty twist on peanut brittle. This colorful Easter egg brittle adds candy-coated almonds for a festive twist on a sweet and salty classic.
Easter Egg Peanut Brittle
Start by grabbing a cookie sheet and lining it with parchment paper. In a saucepan over medium heat, add 1 cup of corn syrup, 1/2 cup of water and 2 cups of sugar. Stir continuously until it comes to a boil — this may take up to 20 minutes. Place a candy thermometer in the pan, and slowly turn up the heat. When the mixture reaches 300 degrees, quickly remove it from the heat, and stir in 4 tablespoons of room temperature butter and 2 teaspoons of baking soda.
Pour the mixture evenly onto your prepared baking sheet. Add your candy-coated almonds, roasted peanuts and any other nuts you want! Press the toppings lightly into the brittle so that they stick. Place your brittle in the freezer for an hour, then break it into pieces and enjoy! You can also wrap your Easter egg brittle in clear plastic gift wrap or put it in decorated jars for a fun and easy party favor.
Fourth of July
The best way to celebrate Independence Day is to grab some friends and head outside for a cookout. In the heat of summer, you'll want a cool and refreshing dish to add to your buffet table. Salads with nuts are a light and healthy addition to a cookout but are tasty enough for everyone to enjoy. Try one of these combinations, or invent your own way to incorporate nuts into your summer salad:
Walnuts, apples, and feta on mixed greens with red onions and oil and vinegar
Crunchy almond salad with avocado, cucumber, mandarin oranges and sweet pepper on iceberg lettuce
Thai cashew salad with red cabbage, carrots, edamame, peppers and a ginger peanut dressing
Red, White, and Blueberry Salad
This refreshing and juicy salad is perfect for a Fourth of July party with its festive colors and easy-to-make recipe. You can make as large or small a batch as you need for your party and mix the ingredients in any portion to suit your taste. Simply combine the following ingredients in a large bowl:
Cubed watermelon
Cubed feta cheese
Blueberries
Top your salad with your favorite vinaigrette, or make your own dressing by mixing olive oil, lemon juice, sugar, and salt. If you want to be even more creative, you can arrange your Fourth of July summer salad to look like an American flag. In a rectangular pan, create red and white stripes with the feta and watermelon, then fill in the top left corner with blueberries. Sprinkle the salad with chopped walnuts, and drizzle it with balsamic vinaigrette for the perfect finishing touch.
Valentine's Day
Valentine's Day is a time to show your loved ones how much you care — and what better way to do that than by sharing a delicious sweet treat that's also good for them? These decadent sweetheart almond truffles are tasty enough that your significant other will want to devour them all and healthy enough that they can!
Almond Truffles for Lovers
In a food processor, combine the following ingredients, and blend until a sticky ball forms:
1/2 cup raw almonds
2 cups of pitted Medjool dates
2 tbsp melted coconut oil
1/4 cup unsweetened cocoa powder
1 tsp vanilla extract
1/4 tsp fine sea salt
On a piece of parchment paper, press out the truffle mixture until it's about a quarter of an inch thick. Using a small metal cookie cutter, cut the truffles into hearts. The mixture will be fairly sticky, so if you have trouble using a cookie cutter, try shaping the hearts by hand. Once you have your hearts punched out, dip them in shredded coconut, or coat them in pink sugar sprinkles for an extra sweet touch. Enjoy your sweetheart truffles right away, or store them in the fridge or freezer.
If you want to take your almond truffles to the next level to really impress that special someone, try coating them in melted white chocolate. In a small saucepan, melt white chocolate chips, stirring continuously. Add a few drops of red or pink food coloring. After your almond truffles have cooled entirely in the fridge, dip them in the melted chocolate using a fork or small metal tongs.
Set the chocolate-covered truffles on a sheet of parchment paper, and return them to the fridge so that the chocolate can set. You can even sprinkle more diced almonds on top for an extra crunch.
Halloween
Between costume parties and trick-or-treat, your house will be overflowing with candy during the Halloween season and for weeks after the holiday has passed. While a little indulgence is good every now and then, your teeth will need a break from all that sugar. For your next Halloween party, try serving spiced nuts as a treat that both kids and parents will love.
Simply start with your favorite raw or unsalted nuts and select any spices you want to add. We recommend starting with a roasted unsalted nut mix so that you get a taste of everything. Preheat the oven to 250 degrees, then mix your spices in a medium bowl. Whisk in a liquid, using about one tablespoon for every one cup of nuts — this can be any flavor you want to add, including lime juice, orange juice or olive oil.
Add your nuts to the bowl, and toss them until they're completely coated. Transfer the spiced nuts to a baking sheet, and bake for about 45 minutes, stirring every 15 minutes. When your nuts are golden brown, remove them from the oven, and let them cool completely before you start snacking. Use your creativity with a variety of spice combinations to thrill your party guests with this healthy treat.
A Little Bit Nuts Dip
For a festive — and a little bit freaky — Halloween appetizer, try a delicious raw nut dip. This brown and green protein-packed dip looks just like brains when you serve it in a small, carved jack-o-lantern. In a food processor, combine the following ingredients, scraping the edges down as you puree:
When the mixture is smooth, add the following ingredients, and puree again until the mixture is smooth:
Black pepper to taste
2 tbsp water
1 tsp fresh thyme
1/2 cup fresh basil
Give your nut dip a taste, and adjust your spices as necessary. You can also change the thickness of the dip easily by adding more or less lemon juice or water. To make it look the most like brains, we recommend a thicker consistency. Serve this raw nut dip with fresh vegetables, crackers or chips. Your Halloween party guests are sure to love the creamy flavor of this healthy and spooky nutty brain dip.
Eat Nuts Any Time of Year!
With a little creativity, you can incorporate your favorite nuts into delicious dishes for any holiday. But don't wait to try one of these recipes — you can order from Sincerely Nuts all year round and have your favorite nuts shipped right to your door. Make every day feel like a holiday with a delicious nutty recipe!